Oi Hockey Stadium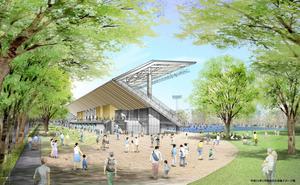 Simulated image as of Jan. 2019
Download image here
[Olympic]
Sports: Hockey
Venue capacities: 15,000
Venues
The Oi Hockey Stadium has been constructed in the Oi Central Seaside Park. Plans are underway for the venue to be used after the Tokyo 2020 Games for hockey, futsal and other sports as a multi-purpose facility. As one of the best multi-purpose artificial turf stadiums in Tokyo, it will be a base for hockey and other sports.
Facility Development
Time-lapse movies of competition venues
The construction sites of new permanent venues for the Tokyo 2020 Games are captured from the beginning of these constructions. Watch the time-lapses to see the sequence of each construction project.
Related Content
Access
Approx. 8-minute walk from Oi Keibajo-mae Station on the Tokyo Monorail
Approx. 20-minute walk from Tachiaigawa Station on the Keikyu Line
Approx. 6-minute walk from Yashio-minami on Toei Bus Shina 91 from Shinagawa Station Konanguchi (Konan Exit)
Approx. 6-minute walk from Yashio-minami on Toei Bus I 92 and Direct 01 from Oimachi Station Higashiguchi (East Exit)
Approx. 5-minute walk from Chuo Park on Toei Bus Mori 22, Mori 30 and Mori 40 from Omori Station (Bus Mori 22 passes Omorikaigan Station)
Approx. 5-minute walk from Chuo Park on Toei Bus I 12 from Oimachi Station Higashiguchi (East Exit) (This bus passes Aomono-yokocho Station)
Please use public transport
Address
4-chome, Yashio, Shinagawa-ku, Tokyo
1-chome, Tokai, Ota-ku, Tokyo
Map