Tokyo Aquatics Centre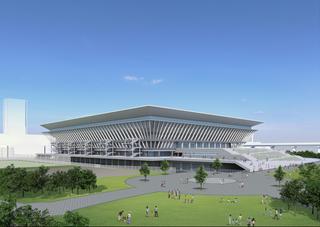 Simulated image as of Nov. 2017
Download image here
Venues
Tokyo Aquatics Centre has been newly constructed in the Tatsumi Seaside Park. The venue capacity is 15,000 seats during the Games and will be reduced to 5,000 seats after the Games. Following the Games, the Tokyo Aquatics Centre will be a world-class swimming venue and will also function as a swimming facility for the residents of Tokyo.
Facility Development
Time-lapse movies of competition venues
The construction sites of new permanent venues for the Tokyo 2020 Games are captured from the beginning of these constructions. Watch the time-lapses to see the sequence of each construction project.
Related Content
Access
Approx. 10-minute walk from Tatsumi Station on the Tokyo Metro Yurakucho Line
Approx. 15-minute walk from Shiomi Station on the JR Keiyo Line
Approx. 20-minute walk from Shin-kiba Station on the JR Keiyo Line, Tokyo Rinkai Kosoku Tetsudo Rinkai Line and Tokyo Metro Yurakucho Line
Approx. 5-minute walk from Tatsumi-danchi on Toei Bus Kin 13 Otsu from Kinshicho Station (this bus passes Sumiyoshi Station and Shinonome Station)
Approx. 5-minute walk from Tatsumi-danchi on Toei Bus Mon 19 Kou/Otsu from Monzen-nakacho (this bus passes Toyosu Station and Shinonome Station)
Approx. 5-minute walk from Tatsumi-danchi on Toei Bus Mon 19 Kou from Kokusai-tenjijo Station
Approx. 5-minute walk from Sazanamibashi-Minamizume on Toei Bus Koto 01 (Tatsumi route) from Shiomi Station
Please use public transport
Address
2-2-1, Tatsumi, Koto-ku, Tokyo
Map