Sea Forest Waterway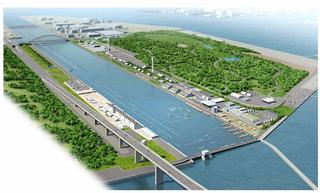 Simulated image as of Jan. 2019
Download image here
Venues
The Sea Forest Waterway's rowing and canoe course was newly constructed in the canals between the Inner and Outer Central Breakwater Reclamation Areas of the Port of Tokyo, affording superb bay and cityscape views. Following the Tokyo 2020 Games, the course will be a world-class venue to strengthen and nurture athletes by hosting international rowing and canoe competitions; and it will be open to the public as a recreation area taking advantage of the expansive water area.
Facility Development
Time-lapse movies of competition venues
The construction sites of new permanent venues for the Tokyo 2020 Games are captured from the beginning of these constructions. Watch the time-lapses to see the sequence of each construction project.
Related Content
Access
Access pre-Games
Approx. 20-minute walk from Kankyo-kyoku-chubo-godo-chosya-mae on Toei Bus Nami 01 from Tokyo Teleport Ekimae (this bus passes Telecom Center Station)
Approx. 15-minute taxi ride from Shin-kiba Station on the JR Keiyo Line, Tokyo Metro Yurakucho Line and Tokyo Rinkai Kosoku Tetsudo Rinkai Line
Approx. 15-minute taxi ride from Ryutsu Center on the Tokyo Monorail
Please use public transport
Access during the Games (Current plan)
Shuttle bus service from Tokyo Teleport Station on the Tokyo Waterfront Area Rapid Transit
Shuttle bus service from Shinkiba Station on the JR Keiyo Line or Tokyo Metro Yurakucho Line or Tokyo Waterfront Area Rapid Transit
Please use public transportation to access the venue
Stations may be added or changed
Accessible routes will be available at Tokyo Teleport Station
Caution
Because more than the ordinary number of passengers may be using public transportation during the Games, it may take longer than the required time that is provided on the Internet. It may also take longer to walk from the station to the venue, so we suggest that you give yourself ample time.
Please note that during the Games, you may be instructed to use a route that is different from the ordinary route used to access the venue.
Address
3-chome, Aomi, Koto-ku, Tokyo
Map