Kasai Canoe Slalom Centre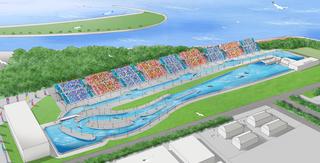 Simulated image as of May. 2016
Download image here
Venues
Newly constructed on land adjoining the Kasai Rinkai Park, the canoe slalom course is the first man-made course in Japan. After the Tokyo 2020 Games, the facility will offer the public a place to enjoy various water sports and leisure activities, including rafting in close cooperation with nearby facilities.
Facility Development
Time-lapse movies of competition venues
The construction sites of new permanent venues for the Tokyo 2020 Games are captured from the beginning of these constructions. Watch the time-lapses to see the sequence of each construction project.
Related Content
Access
Approx. 12-minute walk from Kasairinkaikoen Station on the JR Keiyo Line
Approx. 12-minute walk from Kasairinkaikoen Ekimae on Toei Bus Kasai 21 from Kasai Station
Approx. 12-minute walk from Kasairinkaikoen Ekimae on Toei Bus Rinkai 28 Kou from Ichinoe Station (this bus passes Kasai Station)
Approx. 12-minute walk from Kasairinkaikoen Ekimae on Toei Bus Nishika 20 Otsu from Nishi-Kasai Station
Approx. 12-minute walk from Kasairinkaikoen Ekimae on Keisei Bus Kan 07 from Koiwa Station (this bus passes Ichinoe Station and Kasai Station)
Approx. 12-minute walk from Kasairinkaikoen Ekimae on Keisei Bus Kan 08 from Kameari Station (this bus passes Ichinoe Station and Kasai Station)
Approx. 7-minute walk from Rinkai-shako on Toei Bus Kin 22 from Kinshicho Station (this bus passes Sumiyoshi Station, Toyocho Station, Minami-sunamachi Station and Nishi-kasai Station)
Approx. 7-minute walk from Rinkai-shako on Toei Bus Rinkai 22 from Funabori Station (this bus passes Nishi-kasai Station)
Approx. 7-minute walk from Rinkai-shako on Toei Bus Rinkai 28 from Kasai Station
Approx. 10-minute walk from Kasairinkaikoen on the Tokyo Mizube Cruising Line
Please use public transport
Address
6-1-1, Rinkaicho, Edogawa-ku, Tokyo
Map